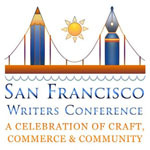 This auction is online with 30 items donated by best-selling authors, literary agents, publishers, PR professionals, and others. Get critiques on queries, Skype or phone consultations on manuscripts or proposals, and so much more. It's a great opportunity for feed back while donating to a great foundation.
The San Francisco Writers Foundation has chosen as its co-beneficiary the Binc Foundation, which acts as a safety net for independent booksellers experiencing sudden, otherwise insurmountable hardship.  Binc helped 24 booksellers through 5 natural disasters last year and has provided $6.5 million to 7,300 families since its inception. Some authors that support Binc are James Patterson and Ann Patchett because they understand it's a worthy cause! If you are a writer, you might want to help the cause and get a nice benefit of a critique in return.
Bid here and follow @SFWC on Twitter for updates. Some auctions close in 6 days, while others are closing in 7 days.
P.D. Pabst
Blogger and writer of MG/YA fiction.